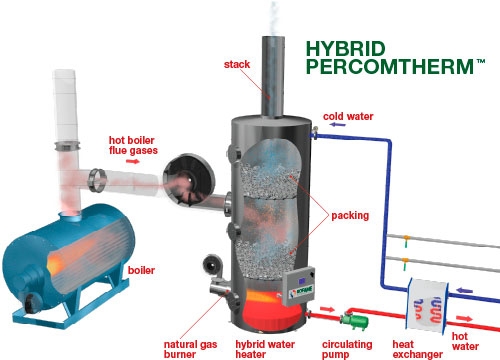 Hybrid Percomtherm® Direct-Contact Condensing Stack Economizer Equipped with a Burner
Up to 100% fuel efficiency Flue gas temperatures as low as 50 °F (10°C)

The HYBRID PERCOMTHERM is a "DIRECT-CONTACT", condensing stack economizer which is equipped with an integral, fully modulating burner. Therefore, the HYBRID provides boiler flue gas heat recovery from existing boilers, and provides its own heat source to completely satisfy process hot water demand. Hot water is produced at temperatures as high as 185°F (85°C), when the HYBRID is natural gas fired.
Hybrid Percomtherm®
Cold water enters at the top of the HYBRID and is uniformly distributed over the upper surface of a packing of stainless steel nodules which constitutes the first heat transfer zone. The water percolates down through the packing and recuperates the heat contained in the rising, hot flue gas of the connected boilers. If the recuperated energy is not sufficient to heat the water to the desired temperature, a fully modulating burner, located in the lower part of the HYBRID, is activated. The partially heated water falls from the first heat transfer zone to the surface of the second. The burner's hot combustion gas rise through the second heat transfer zone to release its heat to the downward percolating water until the desired water temperature is attained. The heated water collecting at the bottom of the unit is then pumped directly to the process, or across a plate and frame heat exchanger to transfer its energy to a process fluid.
Domestic water heating, hydronic (space) heating, fresh air heating (via glycol loop), boiler make-up water pre-heating, and process water heating.
The HYBRID PERCOMTHERM is available in capacities varying from 1 to 50 million Btu/hr (300 to 15000 kW), and for connected boilers of 100 HP to 100,000 lb steam/hr (1000 to 30000 kW). If you require greater capacity, contact SOFAME.
Very high efficiency; up to 100% (based on HHV).
Maximum flue gas temperatures no more than 10°F (5.5°C) greater than cold water temperature at inlet.
Minimum maintenance required.
Reduced emission of atmospheric pollutants.
No supervision required (unit is not classed as a pressure vessel).
Rapid unit start-up (instantaneous hot water production).
Reduction of installed boiler capacity.
Can be installed outside.
Industrial
Commercial
Institutional
All wetted components and materials, including the HYBRID's shell and the packing, are entirely fabricated of stainless steel, and are covered by a 5 year guarantee.